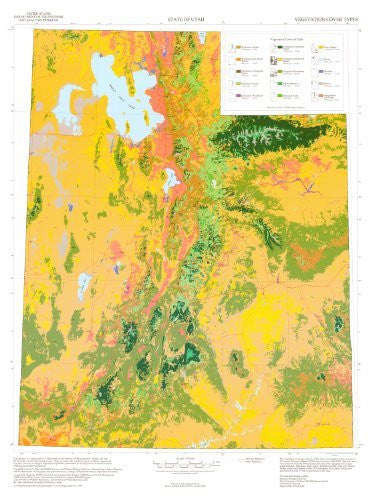 Wide World Maps & MORE!
State of Utah Vegetation Cover Types
Gap Analysis is a nationwide United States Department of the Interior program to identify and map the diversity of terrestrial animal species. Gaps are lands with significant species habitats unprotected by parks, reserves, or refuges. Gap analysis provides information to aid the process of natural resource planning and habitat management.
The vegetation cover types shown on this map were modeled using a mosaic of 23 Landsat Thematic Mapper images recorded 1989-1989. Spectral classes were clustered from the Thematic Mapper data and associated with veegtation cover types using field data. Elevation, slope, aspect, and other ancillary data were used to further refine and delineate a total of 36 vegetation cover types, which were generalized into the 15 classes portrayed on this map.
Paper, one-sided wall map.
Projection = Universal Transverse Mercator, Zone 12
Datum = North America 1927
Scale = 1:750,000
Latitude = 37° 0' 0" N to 42° 0' 0" N
Longitude = 114° 0' 0" W to 109° 0' 0" W
Size = 26-1/2" x 35"
103783
---
Share this Product