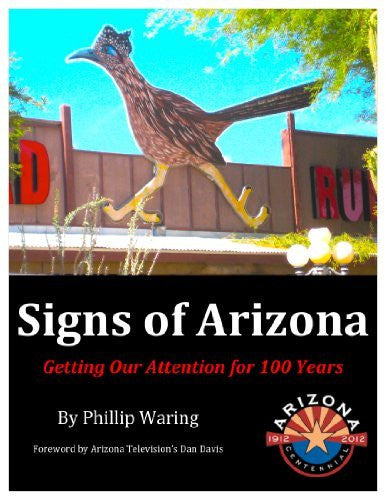 Wide World Maps & MORE!
Signs of Arizona: Getting Our Attention for 100 Years
Signs are all about giving information. Directions. Suggestions. They often answer the proverbial question, "Where am I?"
From Burma Shave signs on Route 66 to those bright electronic billboards we see along the highways, Arizona has a history of putting up great signs. Phil Waring has collected more than 100 of them for us to peruse and remember.
One of the notable things about good signs is that they are like old friends. They become familiar, make us smile, and the welcome us back to some of our greatest memories.
With appreciation for the thought, emotion, and inspiration that gifted people have put into creating great signs, Signs of Arizona is a historical book showing authentic signs found all over Arizona.
Highway historian, itinerant minister, and author, Phillip Waring has driven more than 750,000 miles all over Arizona, snapping and collecting 1000's of photos of the most unique and attention-getting signs found throughout The Copper State. Government signs, billboards, church signs, business signs, monument signs and homemade signs make Signs of Arizona a fun book to read.
SIGNS of ALL KINDS: BUSINESS SIGNS, AUTOMOTIVE SIGNS, BARS & RESTAURANT SIGNS, ACCOMMODATION SIGNS, MISCELLANEOUS SIGNS, INSTITUTIONAL SIGNS, GOVERNMENT SIGNS, LANDMARK SIGNS, plus UNUSUAL & PERSONAL SIGNS
061553080X
---
Share this Product